Retail Signage Needs
Posters and banners
Posters and banners are two very obvious forms of signage – but are also very important. Large scale window posters will help inform your customers about special offers and new products in store.
Similarly, PVC banners can take over that role outside your shop, as they are more weather resistant. If your shopfront is particularly windy, invest in a mesh PVC banner – the holes allow the wind to travel through, without your banner flapping around!
Strut cards and shelf wobblers
Strut cards make for ideal, small-scale retail signage. A strut card is a small cardboard poster, propped up by its inbuilt feet. These are incredibly useful for small POS signage, like a request for your customers to use contactless payment where possible.
Shelf wobblers are just as they sound – small 'arms' with a sign on the end of them, that protrude from shelves and 'wobble'. These are ideal for highlighting special offers and new products, as well as seasonal specific ranges.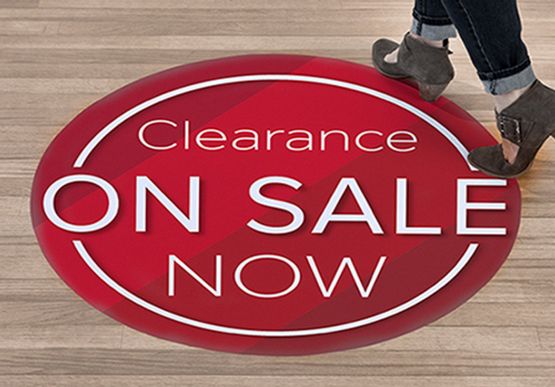 Floor stickers
Vinyl floor stickers are incredibly helpful in a retail setting. Use them to display information about special offers, promote social distancing and spacing or direct customers to specific products.
For example, if you have a toy large store and are keen to direct customers to the gaming section, create vinyl floor stickers that shout out 'Gaming this way' with an arrow, or, even better, create a custom design of a playstation controller, that customers can follow. Use as many different designs as you like and create a fun, interactive floor display!
Roller banners
Pop up roller banners are incredibly popular – use them for store opening hour, car park instructions, 'we are hiring' signs: whatever you like! As they can be reused time and time again, it's best to reserve roller banners for something you're likely to promote repeatedly.
As such, they are perfect to use as seasonable in store decoration – for example, a heart covered Valentine's roller banner with the message: 'Valentines gifts now in store!).
Using all these different forms of retail signage in tandem will do wonders for your promotional material, marketing and customer information. Be sure to design all your retail signage with your branding, logo and complementary colours.