Custom printed vinyl floor graphics!
Perfect for retail, businesses, events and leisure facilities, these versatile floor stickers have any number of uses.
Direct queues, maintain social distancing, advertise offers and products or simply promote brand awareness!
Custom Vinyl Floor Stickers
Show your customers the way and turn empty floor space into a rich canvas of advertising possibilities, with custom-printed floor graphics from printedfloorstickers.co.uk.
Perfect as navigational aids, promotional advertising, or simply as site branding, these high-quality printed floor decals offer versatile decorative tools for all kinds of indoor and outdoor applications.
printedfloorstickers.co.uk offers custom floor sticker printing services so you can create your very own vinyl floor graphics. Choose from a wide range of styles and options, including a variety of different non-slip textures for complete peace of mind!
Create your own design, or commission our in-house graphic designers to create original artwork for you with our Design Services.
Vinyl Floor Stickers Options
Non-slip Materials
Our range of floor graphic stickers can be applied to most typical indoor and outdoor floor surfaces; including ceramic tiles, wood paneling, carpet fabrics and even rough-textured concrete.
There's four different floor graphic options available to suit different applications: SteadyGrip, CombiGrip, MultiGrip and ProGrip. Take a look at the table below for more information on each option.
| | | | | |
| --- | --- | --- | --- | --- |
|   | CombiGrip | SteadyGrip | MultiGrip | ProGrip |
| Features | | | | |
| Anti-Slip Rating | R10 | R9 | R12 | R13 |
| Indoor Use | ✔ | ✔ | ✔ | ✔ |
| Outdoor Use | ✖ | ✖ | Up to one month | ✔ |
| Protective Lamination | ✖ | ✔ | ✖ | ✔ |
| Use for rough surfaces | ✖ | ✖ | ✔ | ✔ |
| Fire Safety Rated | ✖ | ✖ | R1 | R1 |
| Clear material option | ✖ | ✔ | ✖ | ✖ |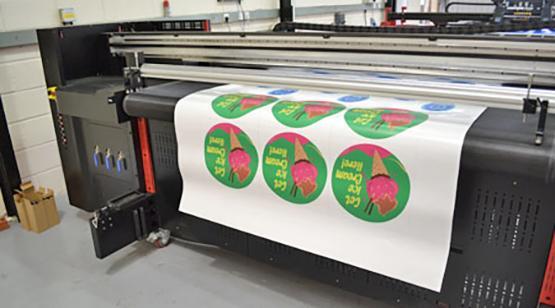 PRINTING
Your floor graphic design will be printed quickly and professionally on one of our ultra-quick 3 metre large format printers, which uses UV curable inks for speedy drying, sharp colours and weatherproof, fade-resistant quality.
LAMINATION
Worried about slips and trips? All our floor graphics come with a minimum R9 anti-slip rating.
SteadyGrip and ProGrip use anti-slip laminates, while CombiGrip and MultiGrip have built-in anti-slip textured surfaces.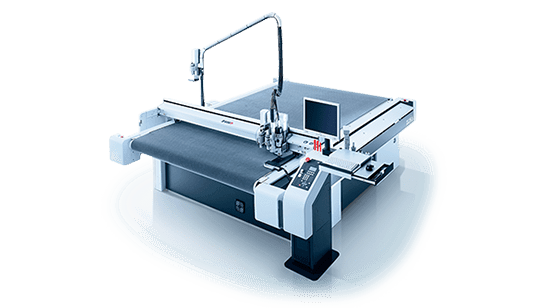 CUTTING TO SHAPE
Your finished print will then be trimmed to your chosen shape using state-of-the-art digital cutter equipment, which ensures quick, accurate and consistent cuts across your entire floor graphic print run.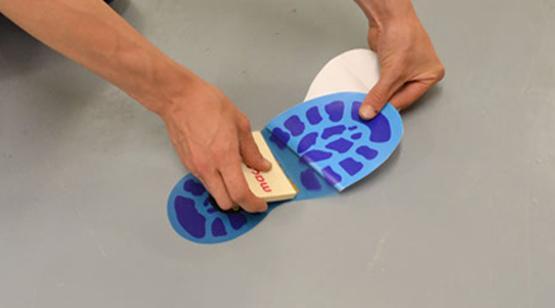 APPLICATION
Applying and removing your floor graphics is easy, thanks to the simple, straightforward self-adhesive backing; just peel off and stick down!
For best results, ensure the floor surface is clean and dry before applying, and use a squeegee to ensure a smooth even finish.